Eden Fantasys brings intimacy to a whole new level...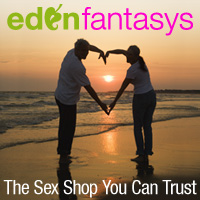 Whether your married, engaged, committed, dating or even solo, having a great sex life can help promote your health in so many ways. Some study's show having sex multiple times per week boost Immunity because it can produce higher levels of an antibody called immunoglobulin A, or IgA, that guards against infections such as the common cold. While other study's suggest sex can decrease a persons blood pressure and promote deep sleep.
Eden Fantasys is here to help you realize sex is more than just something people do, it's not only good for you health as mentioned above, but it can also be a mood booster. If you find yourself getting stale in your relationship or maybe just want a little bit of that excitement back that you may have lost over time, don't be afraid to talk to your partner. They may be feeling the same way.
Eden Fantasys takes you away from your everyday life and helps put you in the drivers seat with many products to keep you and your partner in sync mentally emotionally and physically. Spice up your love life while exploring new and exciting toys to keep your sex life abundant and satisfying.Whether your a novice or an expert or perhaps somewhere in between, Eden Fantasys can help you find a perfect balance of adventure, fun, excitement and ecstasy!
Enter below to win a $55 Gift Card to Eden Fantasys and let your imagine take over!
Eden Fantasys Gift Cards never expire, are stack-able and will cover shipping!!
Giveaway is OPEN WORLDWIDE!
(3/3/2013 - 4/3/2013)
a Rafflecopter giveaway
And the winner is...
results powered by
Random.org
Entry #521Amanda R.
Follow Eden Fantasys on their Social Networking site to stay up to date on special offers and current promotions!
Facebook
Twitter
Google+
Pinterest
You can also sign up for their Newsletter and possibly receive a *free gift!!
*Free

Gift of

Adult Product
**
This is a Sponsored/Compensated post written by me. All opinions are my own.