Product Description:
The Juppy "Momentum" is a solution to a previously recognized but unsolved challenge for parents of babies beginning to walk. Babies strong enough to begin walking but not strong enough to walk alone. The Juppy builds confidence in your baby and teaches balance while you maintain your natural posture, eliminating the grueling task of hunching over while teaching your baby to walk.
The Juppy has easily adjustable straps that accommodate your height whether you are 4'11" or 6'11". The Juppy comes standard with soft hand grips that are strategically placed to provide optimum benefit for your hands; a color matched state of the art zipper is located at the rear of The Juppy for the purpose of safety, easy access and exit. You will find two Velcro straps that overlap the back zipper which again shows our commitment to providing you the safest and most practical baby walker on the market.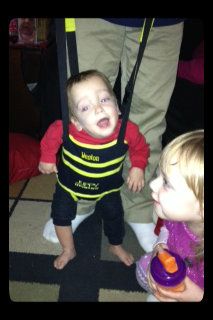 I would like to introduce you all to Weston. He is 15 months old. He was born 3 months premature and has undergone, 3 brain surgery's, heart surgery and 2 stomach surgery's as well as numerous other obstacles, he is truly a miracle to our family. He is happy go lucky and will always greet you with a smile on his face. He has been making amazing strides in his short life, but is a little developmentally behind most toddlers his age

due to his many struggles.
When I was given the chance to review the Juppy I was absolutely ecstatic. I thought this would be perfect for Weston. Since he is still so tiny, but yet trying to wanna take a few steps here and there, and it can be torture on his mother's back, as well as anyone else trying to help him do the finger walk. But with him, it's a finger walk, and suppor

t of his body.
The Juppy allows us to let him stand on his own weight and get used to supporting it with his legs. You can see by the smile on his face, he absolutely loves the Juppy. It gives him freedom, without haveing to be held at his waist or under his arms. With the Juppy he was able to feel his weight on his legs, and y

ou could tell it made him curious as all get out.
The Juppy is amazing for it's target audience of toddlers learning to walk, and already being able to take steps with the support of someones fingers, however I feel it is a great tool for helping underdeveloped toddlers gain strength, while also helping parents with their backs. Since Weston is so much shorter than most toddlers his age, the Juppy was a true god sent.
Do you have a toddler starting to walk, tired of bending over feeling like you back is about to break in half? The Juppy Baby Walker Momentum will turn what some would call a daunting task into more fun for your child. You won't want to quit as soon and gives them more freedom to explore for a longer period of time. It is truly a

genius

product and I am so happy to be apart of helping to promote it.
Watch this video below, to see the Juppy in action.
The Juppy Baby Walker Momentum retails for around $37.00, and can be personalized with one name/word. $37 dollars to help motivate your child and save your back all at the same time. You can't get much better than that. The Juppy comes in 3 colors, blue, pink and black. It is made of extremely durable material

to support the weight of your child while also keeping them comfortable. So there are no worries about straps breaking or
child
feeling con

fined.
Would you like to win a Juppy for yourself? Now

'

s your

chance.
The giveaway will run from 1/08 - 1/29
Follow Juppy on their Social Network sites to stay up to date on specials and current promotions:
***
This is a Sponsored/Compensated post written by me. All opinions are my own.